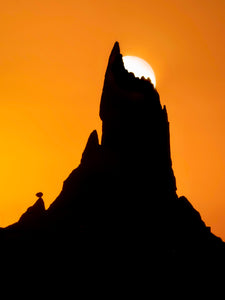 Krakatua Mountain at Volcano Bay (Universal Studios) with a sun setting behind it.
I had this idea a month or two before shooting this photo, did the math, and waited weeks to travel to the perfect IHOP parking lot on International Drive 4000 feet east of Volcano Bay.
Hand-Signed Giclée Print

I produce these fine art paper prints by hand in my home studio with museum quality fine art paper, premium pigment inks, and a highly specialized printer.  An acid-free workflow is used from end-to-end to produce the longest lasting and highest quality final product. 
Learn more about my prints and the print-making process
Larger sizes are available upon request