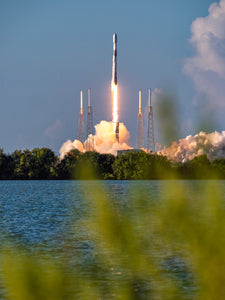 A pair of "twins" lifted off to orbit from Cape Canaveral on the same day. Two rockets have not taken off on the same day from the Cape since 1966 during the Gemini program. This is a demonstration of the true multi-user spaceport on the coast of Florida and the modern increased cadence of launches.
8/4/22 - 6:29am - ULA Atlas V rocket carrying the SBIRS mission for the Space Force.
8/4/22 - 7:08pm - SpaceX Falcon 9 rocket carrying the KPLO mission [this image], a lunar orbiter for South Korea.
Hand-Signed Giclée Print

I produce these fine art paper prints by hand in my home studio with museum quality fine art paper, premium pigment inks, and a highly specialized printer.  An acid-free workflow is used from end-to-end to produce the longest lasting and highest quality final product.