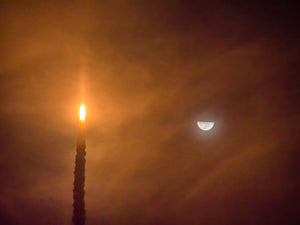 Artemis and the moon!  By far the brightest launch I've ever seen, even from my spot along the Indian River over 10 miles away.  That thing took off like a rocket #dadjoke

The goal was for the rocket to pass right in front of the moon, but NASA had other plans when they had to delay the launch by about 43 minutes.  I was still able to capture the rocket passing alongside the moon on its journey to fly closer than 100 miles of it!

Hand-Signed Giclée Print

I produce these fine art paper prints by hand in my home studio with museum quality fine art paper, premium pigment inks, and a highly specialized printer.  An acid-free workflow is used from end-to-end to produce the longest lasting and highest quality final product. 
Learn more about my prints and the print-making process
Larger sizes are available upon request