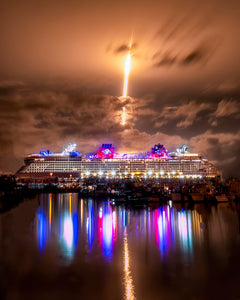 Did you miss out on this limited print run?  This limited print run sold out in under 72 hours.  Make sure to subscribe to my email list to catch the next image's print sale!  
---------------------------
13x17 signed photo print on museum quality archival paper - limited edition numbered series of 50
The 8th Starlink launch (officially Starlink 7) lifts off in a cloudy evening from Port Canaveral. In a rare occurrence (caused by the pandemic), a Disney Cruise Line ship was resting in the port overnight. I always love being able to juxtapose two different types of transportation.